After an overnight stay in Bergama and a visit to the World Heritage Site, Pergamon Acropolis, we travelled to Behramkale (Assos).
This post is about our hitchhiking journey from Bergama to Behramkale (Assos).
Road trip from Bergama to Behramkale (Assos)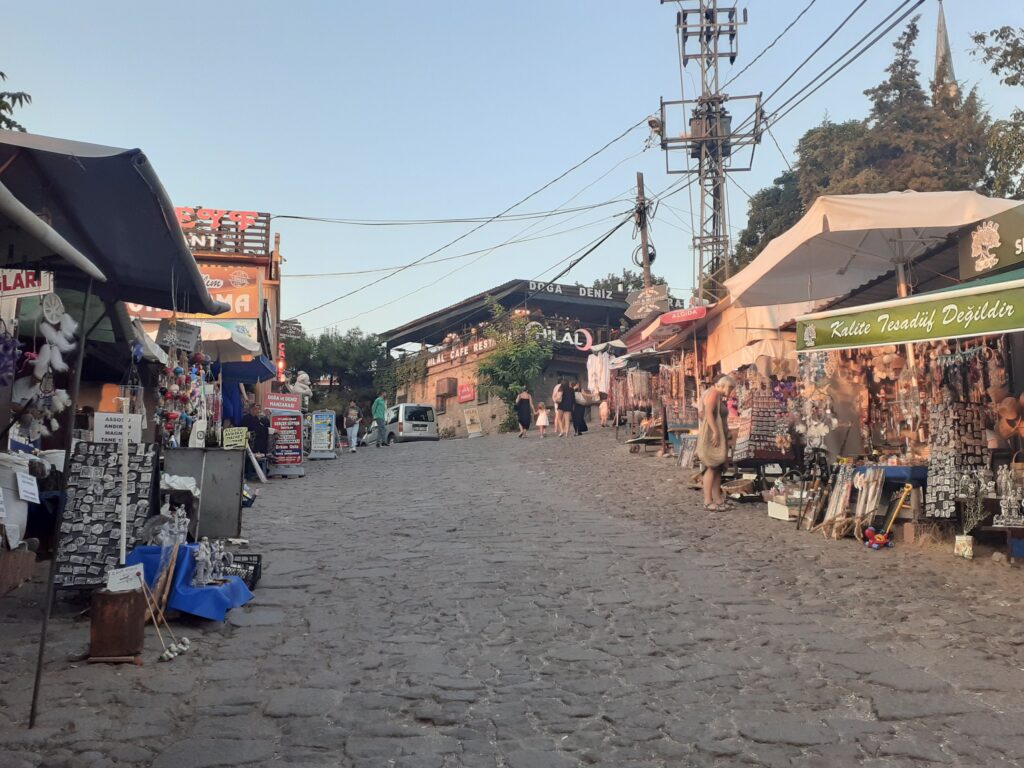 Located on the Aegean coast, Behramkale is popularly known by its ancient name of Assos. It is a resort area with a beach, but we headed for the hilltop town of Assos rather than the beach.
It is approximately 160 km from Bergama to Behramkale. I believe there is a bus service from the city of Bergama. But, as is often the case in Turkish cities, the bus terminal is far from the town centre.
Furthermore, if you leave the city by bus from Bergama bus terminal, you will be travelling on roads close to the coast. However, we have heard that the mountainous road from Bergama to the north was very scenic. We therefore decided to try hitchhiking northwards.
We had to take several transport connections to reach Behramkale (Assos) as there is no direct transport. We left Bergama reasonably early and took the main road north to Edremit and then via Kucukkuyu to Assos.
Hitchhiking from Bergama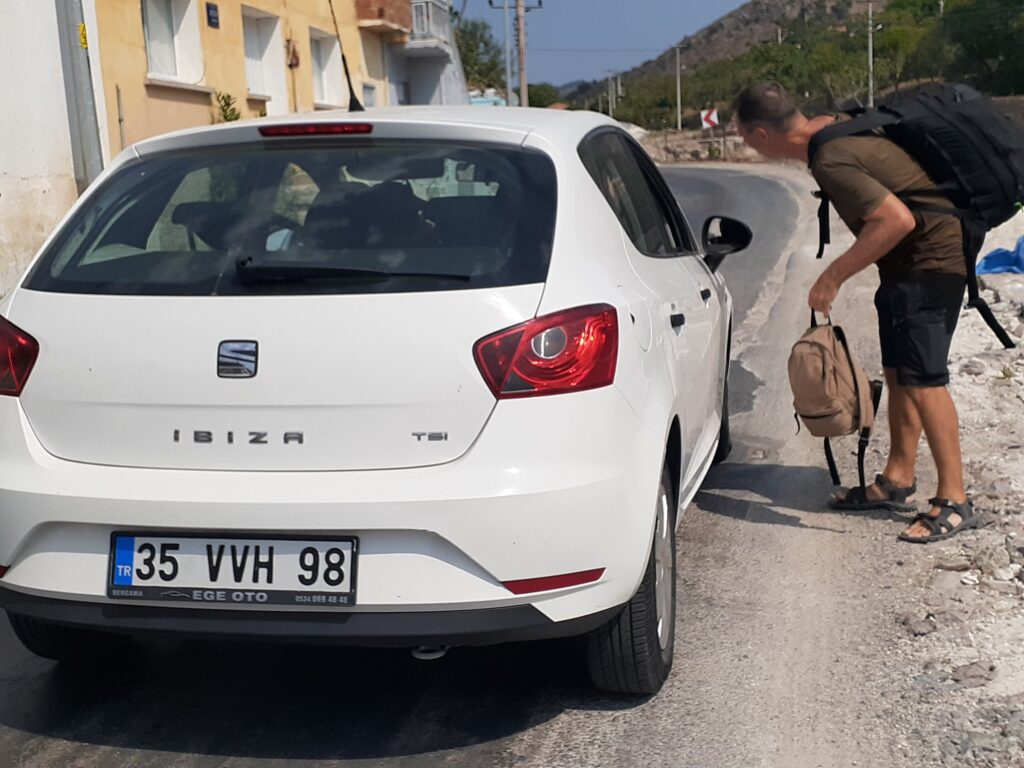 We hitchhiked from Bergama to the north-west on a mountain road with beautiful scenery, from an exit to the north of the town. Shortly afterwards, the car driven by a Turkish German teacher stopped. She spoke good English and was very helpful. We were given a lift by her and her niece, who lives in the Black Sea region, to a café in the Kozak area.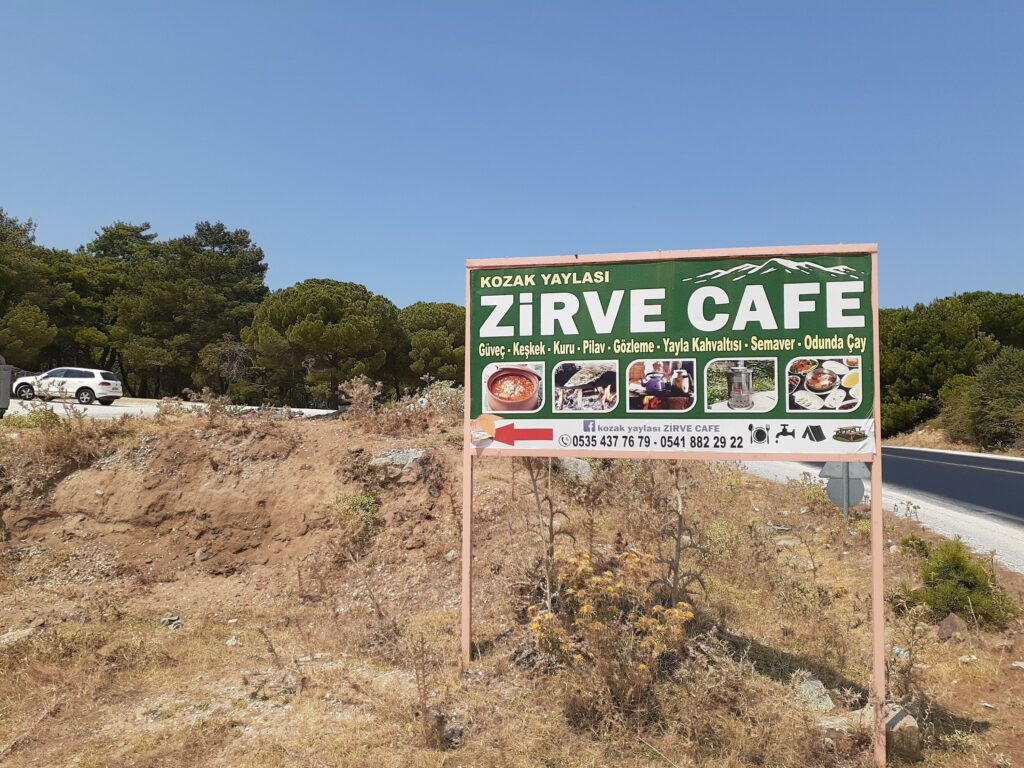 Soon after, we arrived at their destination. It was a stylish café in an area dotted with small villages. Luckily we were also treated to coffee.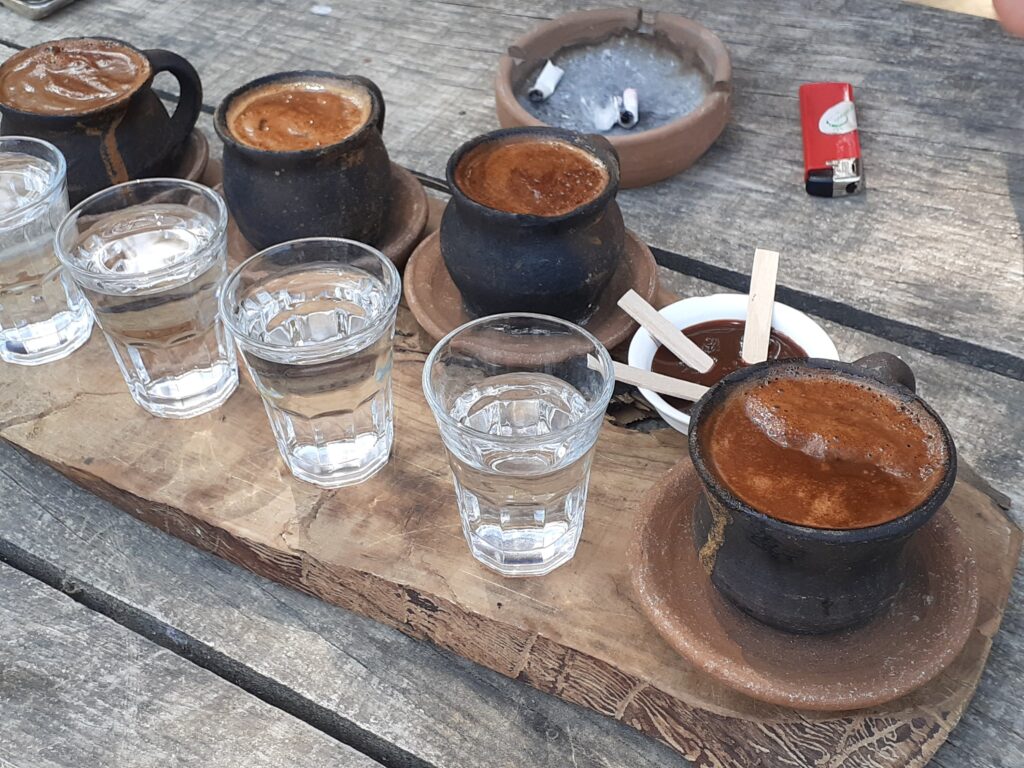 After a delicious Turkish coffee, we said goodbye to the girls, who were going for a walk in the forest, and waited for the next car.
Kozak to the main road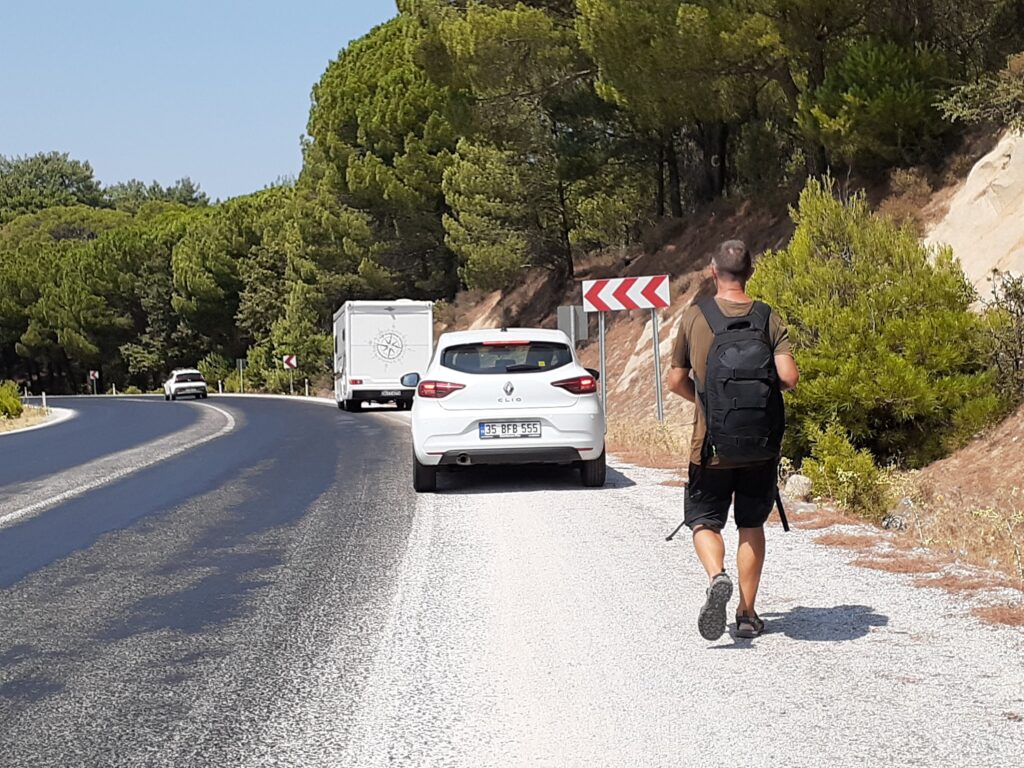 We hitchhiked in front of a café in the forest. We thought it would take a while to find the next car, but surprisingly there was one that stopped right away.
The car did not go to the main coastal road, but turned right on the way to a small village, and we were given a lift to that junction.
His brother lives in Japan, so we arrived at the junction as he showed us photos and talked to us. We thanked him for turning right and got off the car here.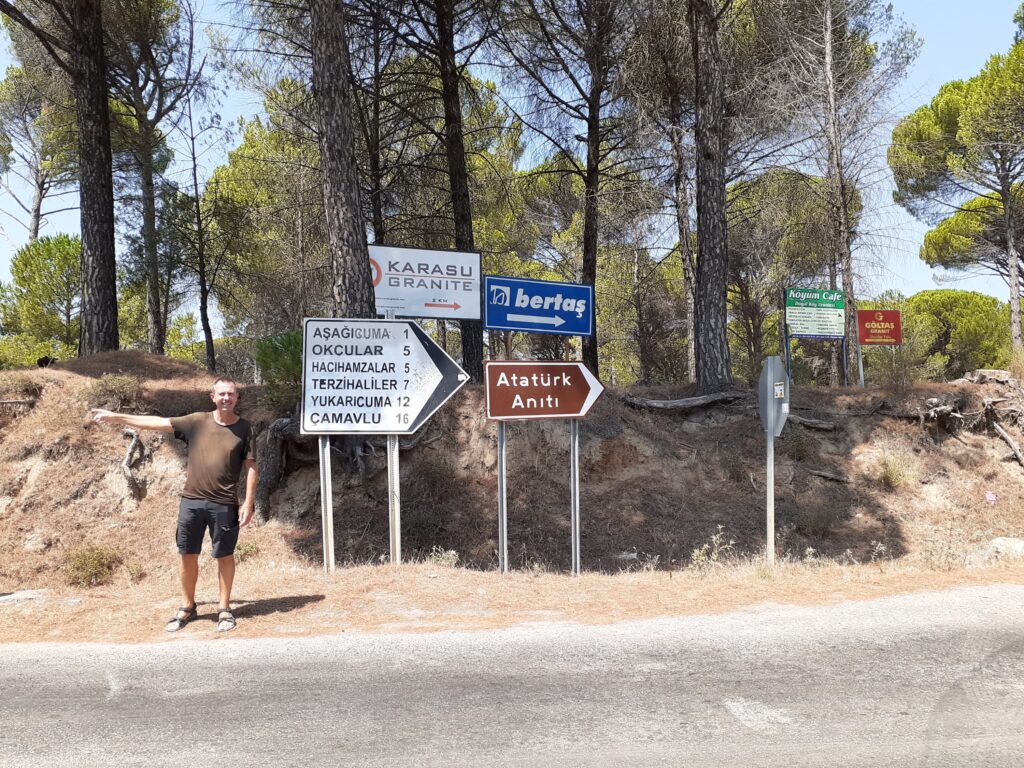 Although there was a lot of traffic at this junction, it took a while because there were not many cars going in the direction we wanted to go. But after a while, we were picked up by a young couple living in a nearby village.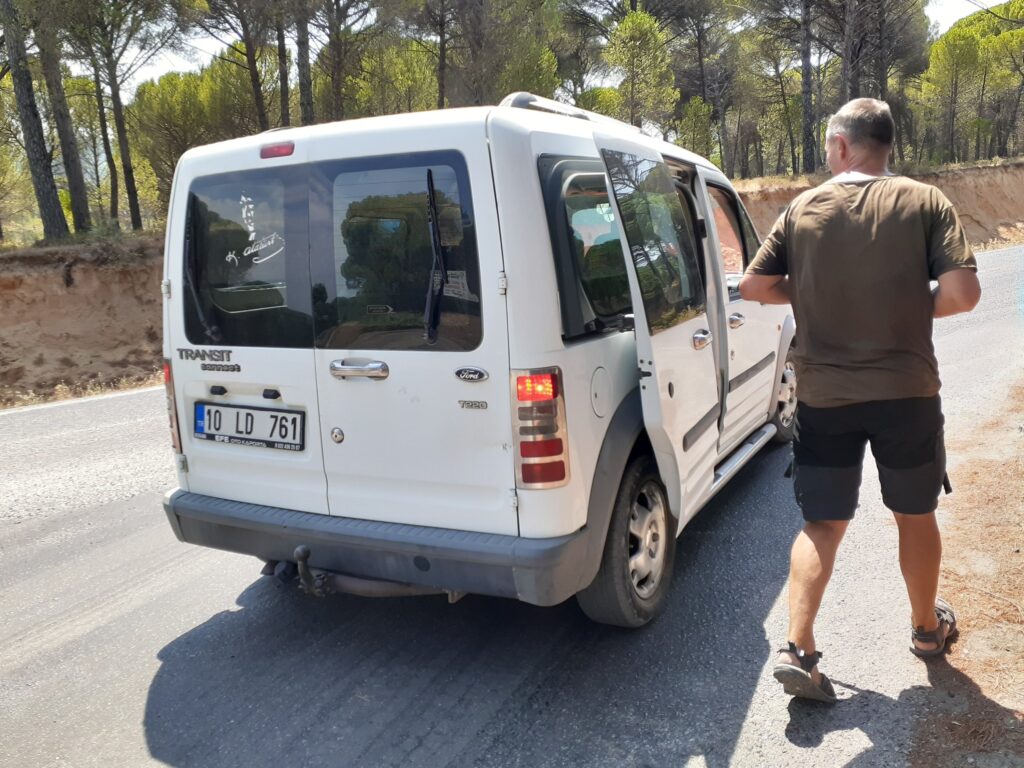 They said they were going to Ayvalık and gave us a lift to the main road junction on the coast. On the way, they took us to their house because they were going back home to pick up something. It was a nice house on a slope, and we were given figs freshly picked from their garden.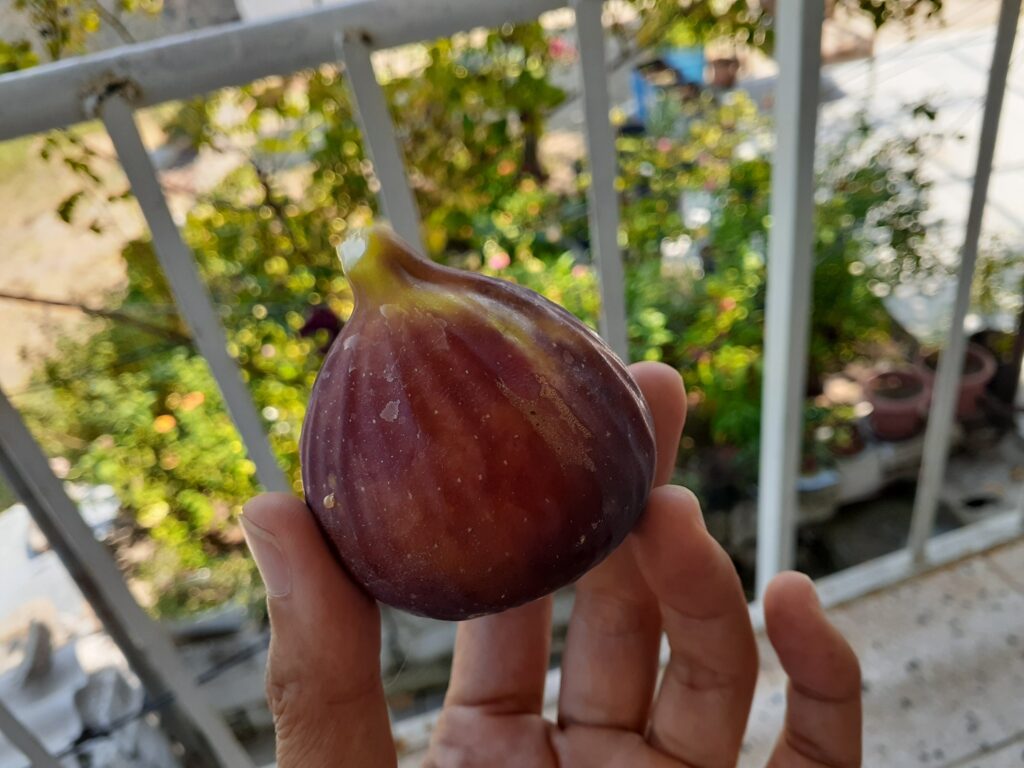 They got their things and we were soon to leave. We hit the main road as we chatted about football. They dropped us at that point.
Getting on a bus to Edremit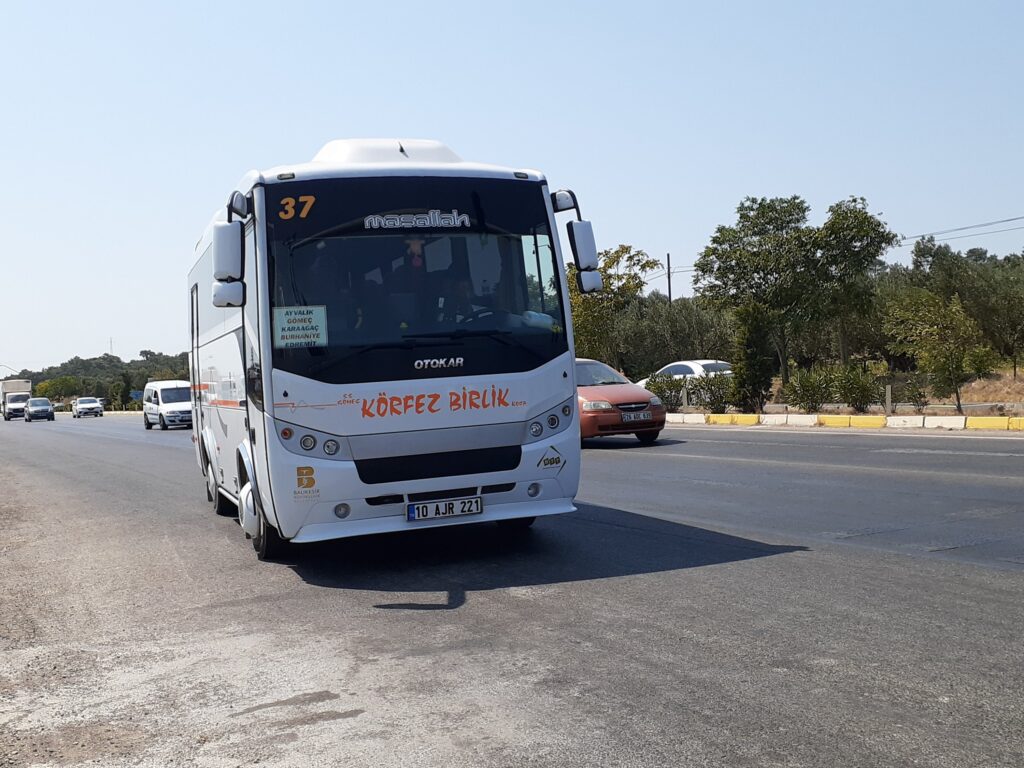 This was a large intersection with two lanes in each direction and heavy traffic, and it was difficult to hitchhike. There was a Turkish man standing next to the traffic lights at the intersection and he told us that the bus to Edremit would be coming soon. Edremit is a town in the direction we wanted to go.
When started hitchhiking, but the bus came really quickly. We decided to go to Edremit with it.
The bus wasn't full, but it didn't go very fast as it stopped at every town along the way! Nevertheless, we got on at 2:30pm and arrived in Edremit at 3:30pm. The bus fare was 40 TL per person. The bus arrived at the bus station in Edremit.
From Edremit to Kucukkuyu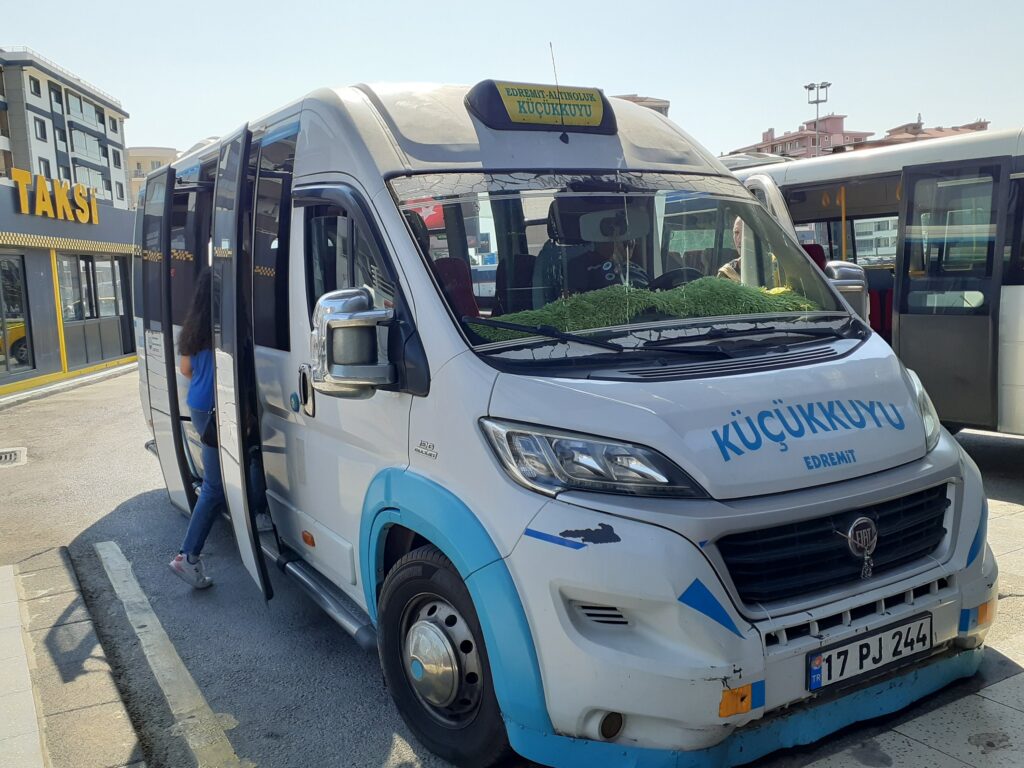 When we arrived at the bus terminal in Edremit, the bus to Kucukkuyu was parked, and we hurriedly boarded the bus as it was due to leave in two minutes. The distance to Küçukyu is about 35 km and the fare was 30 TL per person.
We arrived at the bus terminal in Küçukyu at around 4:45pm, after seeing the Aegean Sea beaches overflowing with bathers by our side.
From Kucukkuyu to Assos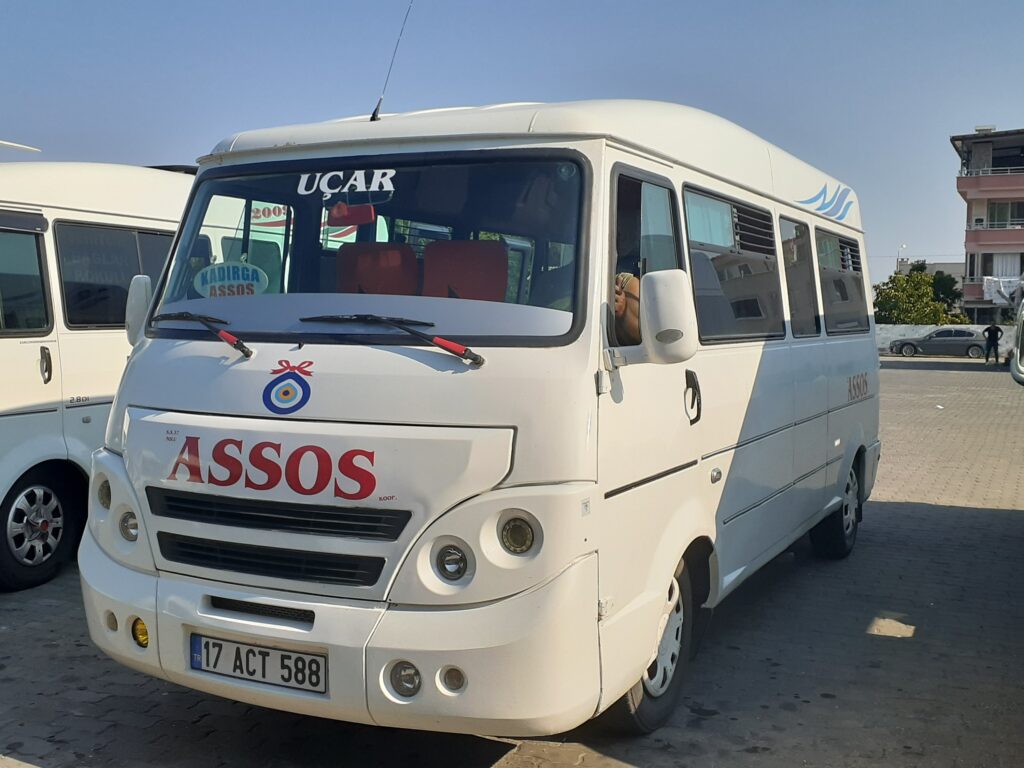 When we arrived at the Kucukkuyu bus terminal, we asked the driver, "Assos?" and he showed us where to catch a minivan to Assos.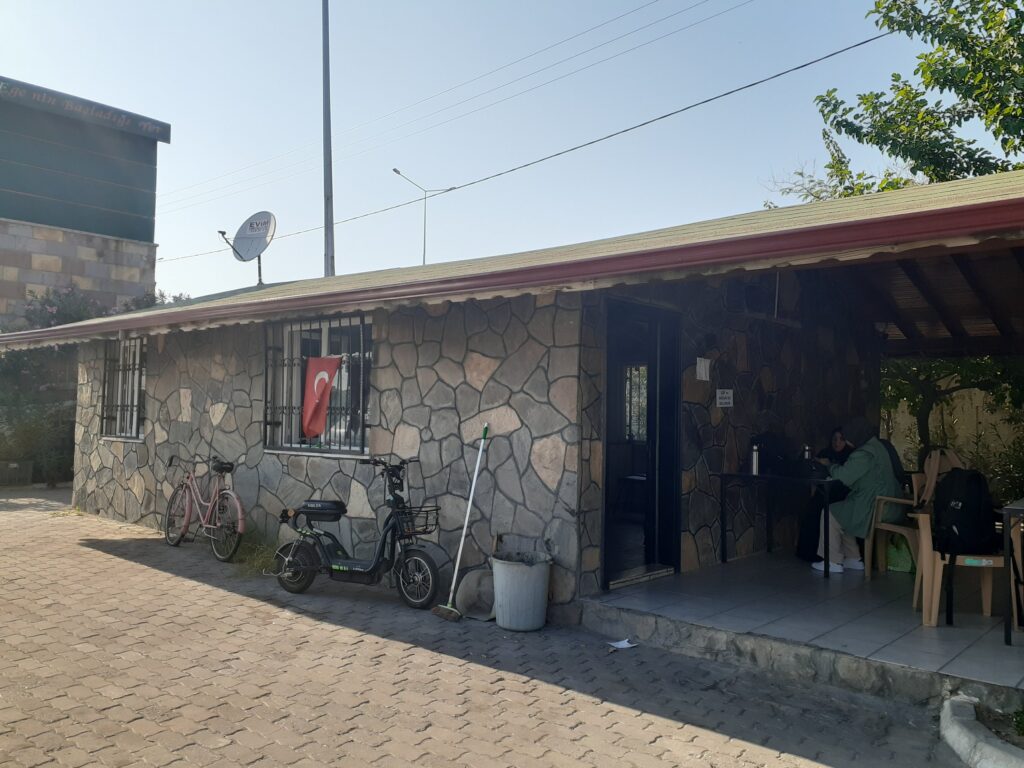 There was a small building in the area where the minibuses from Kucukyu stopped, and this was the minivan stand for Assos. A timetable was posted on the wall.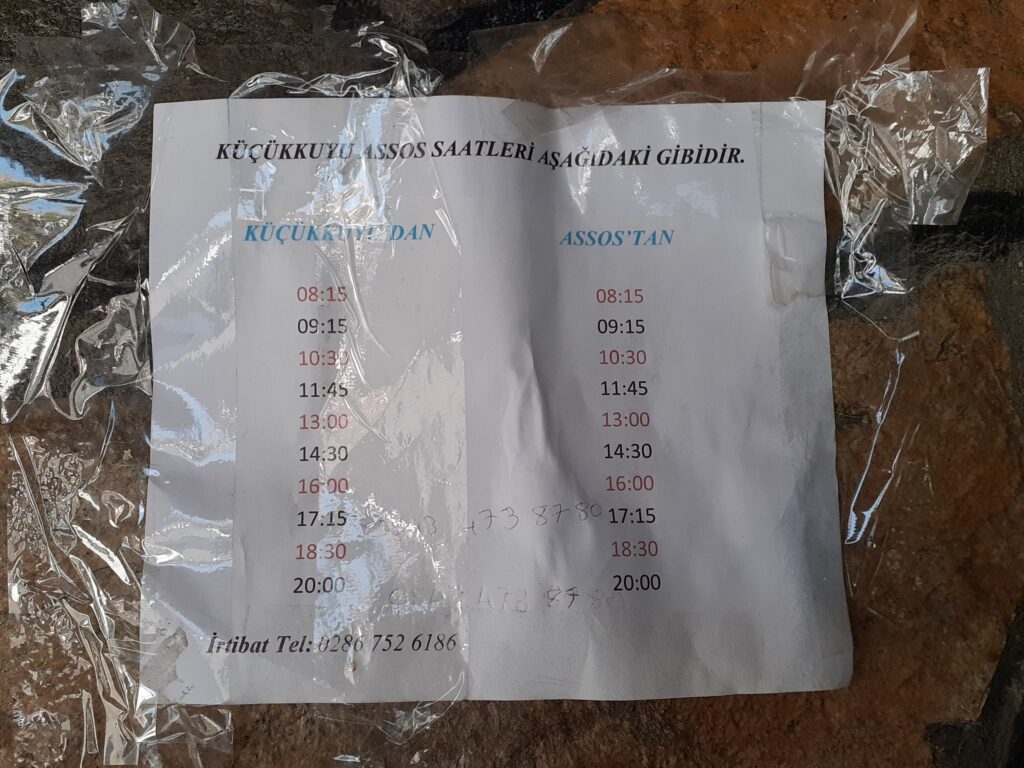 According to the timetable, the minivan leaves at 5:15pm, so we waited for a while. The minivan to Assos may only operate in summer.
The distance to Assos is about 25km and the fare was 50 TL per person. It is a bit expensive, but we guess that is the tourist summer price. It was 6:10pm when we got off at the town centre of Assos. From there we walked to find a guesthouse.