After two nights in Dushanbe, our journey continued north-west to Lake Iskanderkul.
Our original plan was to spend two nights at Iskanderkul Lake. But when we actually got there, we were a little disappointed… In the end, we decided to stay in the village of Sary-Tag, which is just beyond the lake.
This is our journey from Dushanbe to the village of Sary-Tag via Lake Iskanderkul, by shared taxi and hitchhiking.
Getting from Dushanbe to Lake Iskanderkul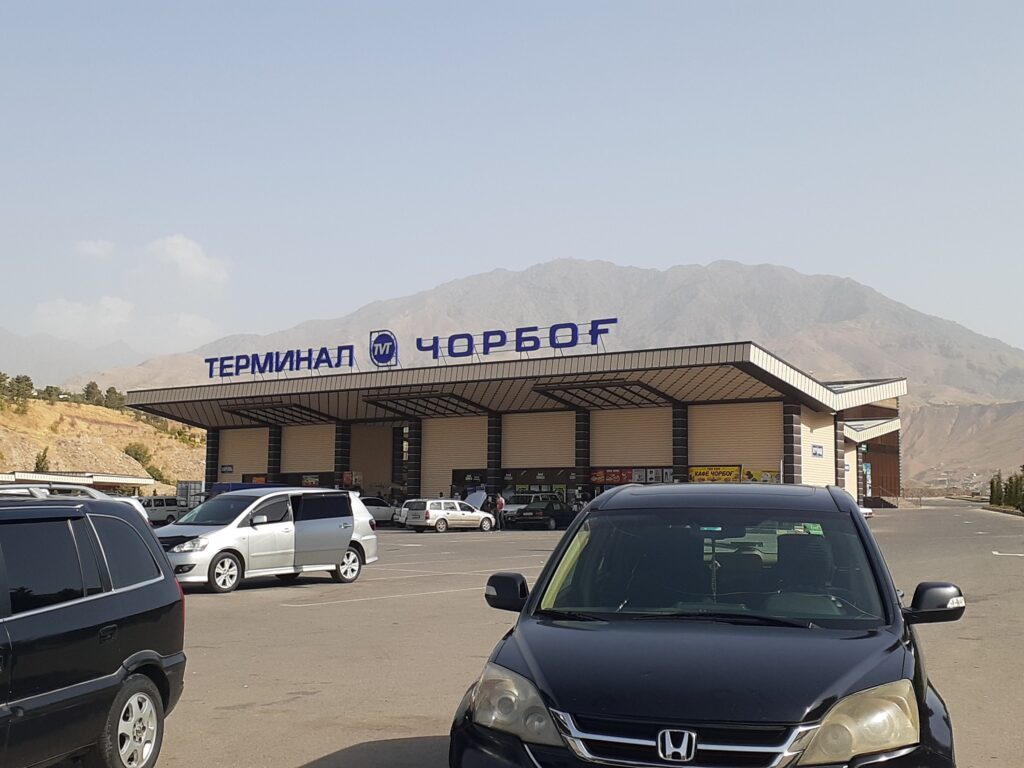 Lake Iskanderkul is 120 km north-west of Dushanbe bus station. The only way to reach Lake Iskanderkul directly from Dushanbe is to charter a car or join one of the day tours offered by the various travel agencies.
If you go by public transport, you can take a bus or a shared taxi, but taking buses is not recommended as it's said to be terribly time-consuming. If you take a shared taxi, you will have to get off at the junction a little before Sarvoda on the way to the lake, where you will find a car heading towards Lake Iskanderkul.
Getting to Chorbogh Terminal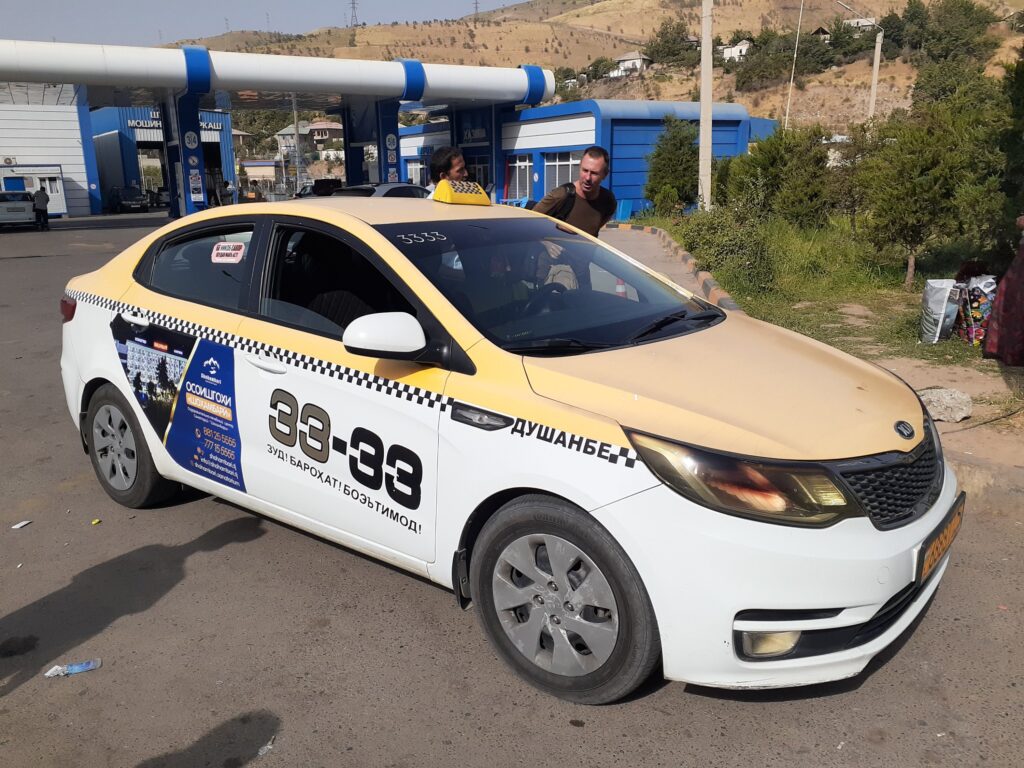 Shared taxis to Sarvoda leave from Chorbogh Terminal, 13 km north of Dushanbe.
3333 Taxis is a popular taxi service in Dushanbe. We asked the hotel receptionist to telephone this company and asked for a taxi.
The taxi ran on a meter and cost 40 som to the terminal.
Shared taxi fare from Dushanbe to Sarvoda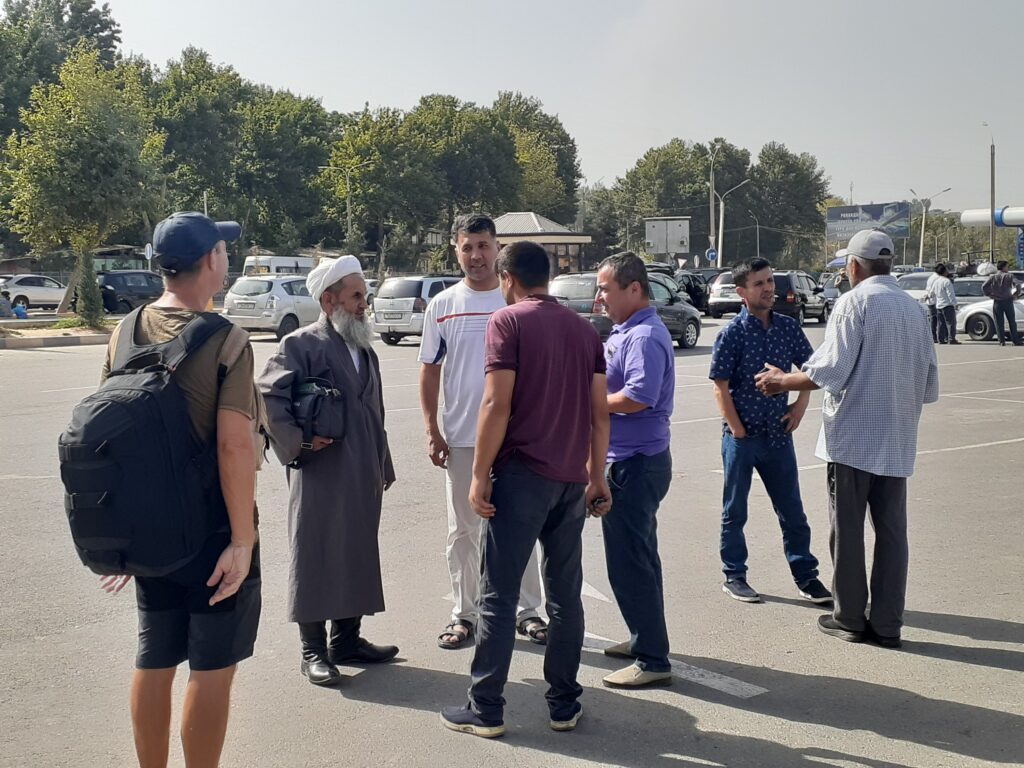 We arrived at the Chorbo terminal at 8.50am. As soon as we got out of the 3333 taxi, many taxi drivers approached us. From here, there are also shared taxis to Khujand, Panjakent and the border to Uzbekistan.
Taxi fares to Sarvoda are estimated to be between 50 and 70 somoni. The driver quoted 70 somoni per person, but we bargained and got 65 somoni per person. We then had to wait for the other two passengers to turn up.
Dushanbe to Sarvoda crossing (Zeravshan-2)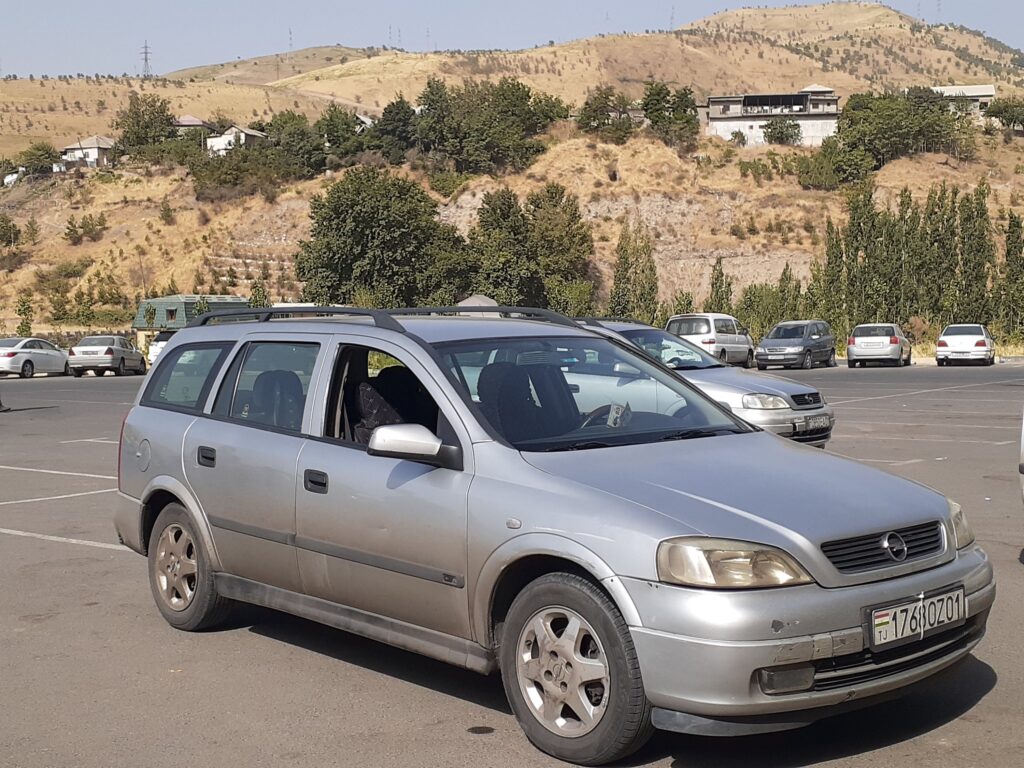 Two more passengers arrived and we were able to leave the terminal at 9.40am. The car drove along a new asphalt road built in a craggy rocky valley.
On the way, we passed through the infamous 5 km long Anzob tunnel. This tunnel was said to have been in very poor condition in the past, but has now been considerably improved.
After climbing up and down the winding mountain road, we arrived at the intersection in front of Sarvoda (Zeravshan-2) at 11.30 am. That means it took about two hours from the terminal in Dushanbe.
Hitchhiking from the Sarvoda crossing to Lake Iskanderkul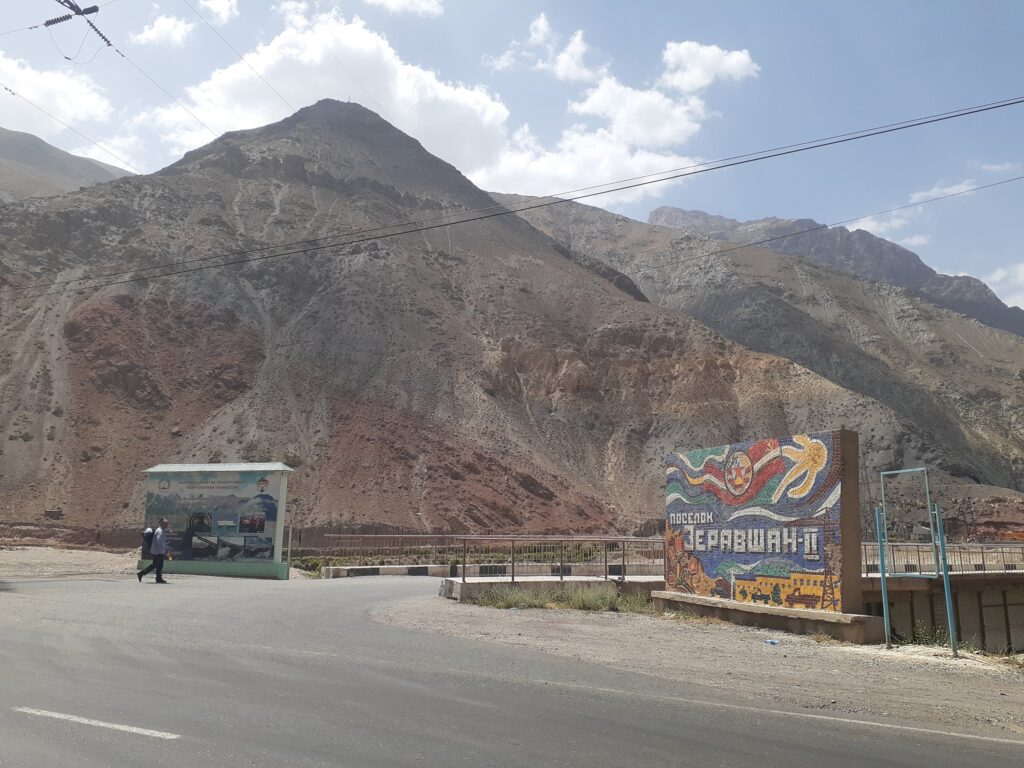 After getting off at the intersection with big signs, we were about to cross the bridge when a local man came and said he was going to a different village from us. I asked him how much it would cost to get a car from here to Lake Iskanderkul. He said 20 somoni. This seems to be the market price for locals.
To get a car to pick you up at Iskanderkul Lake, you need to walk a little. Cross the bridge next to the sign and walk for a while, then turn right and cross the railway bridge. There is a waiting area at the end of the crossing, where you wait for the car to share.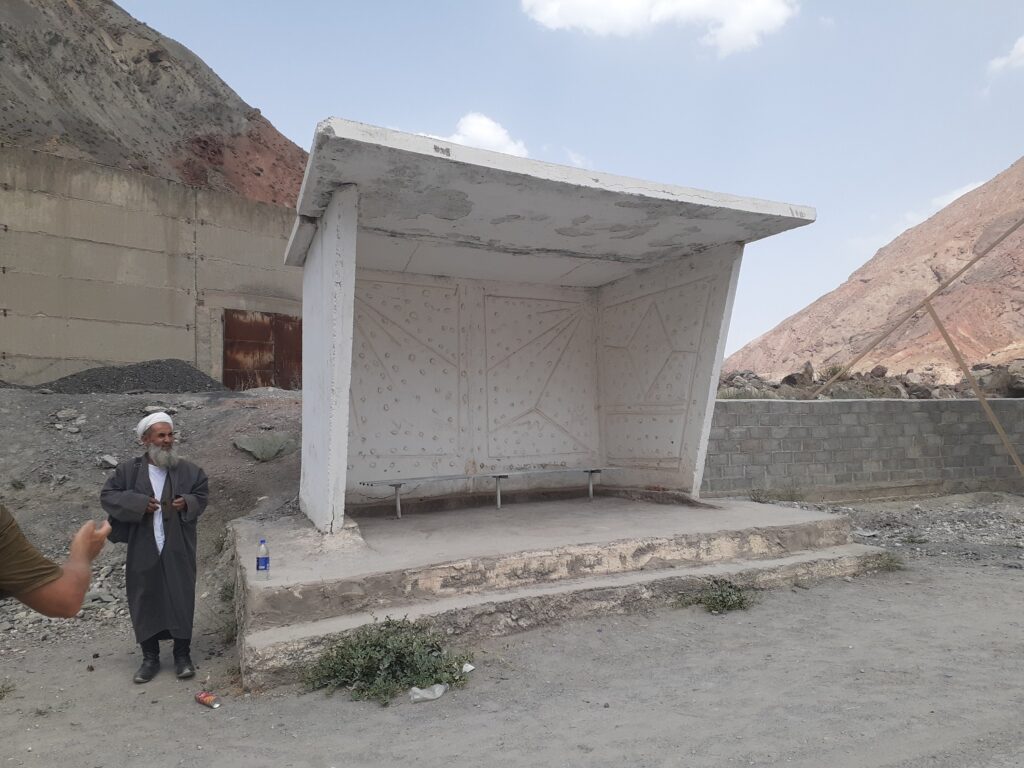 In fact, just before we came to this waiting area, a car with foreigners on board stopped for us. But when I asked how much it would cost to get to Lake Iskanderkul, I was told it would be 100 somoni, so I politely declined.
There was unexpectedly a lot of traffic in the direction of Lake Iskanderkul, and sometimes cars came in succession. Soon after we arrived at the waiting area, a car stopped. However, when we asked how much it would cost to get to Lake Iskanderkul, they said USD 20. That is ten times the price of the locals. We politely laughed and declined.
We waited for about five minutes, believing that "surely some nice Tajiks will stop for us." A car with three adults and three children stopped. When I asked how much it would cost to get to Lake Iskandelkul, he told me it would be free! We are very lucky!
Arrival at Lake Iskanderkul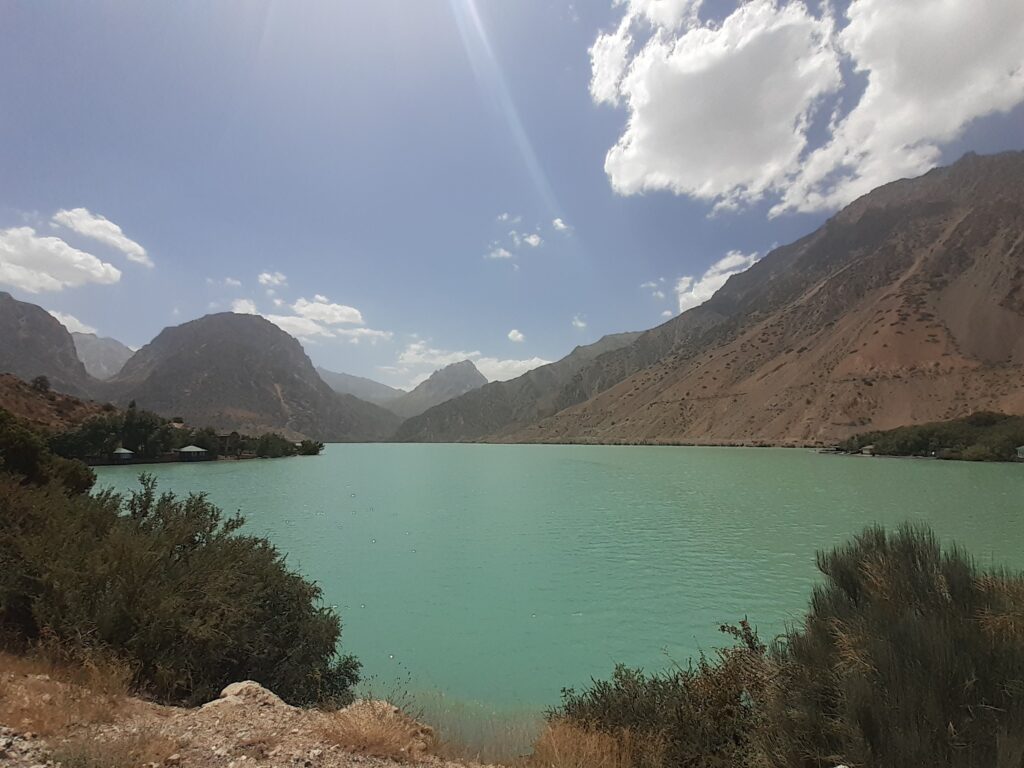 The distance to Lake Iskanderkul is about 20 km, but it is a mountain road, so it takes time. It took about 40 minutes to reach Lake Iskanderkul hitchhiking in a beautiful Mercedes.
We got off at the very front of the lake and planned to stay at a guesthouse right next to it. However, the ground floor of the guesthouse was used as a shop, and although it was midday on a Sunday, there was an old man already in a good mood with his vodka.
Lake Iskanderkul is a scenic spot not only for foreign tourists but also for Uzbeks. The family who had just given us a lift was also tourist from Dushanbe. However, many visitors come to this lake to enjoy parties as well as the scenery.
Having not slept well the day before, we decided not to stay lakeside, as we were seeking a quiet place to stay if possible. Therefore, we left the lake.
Hitchhiking from Lake Iskanderkul to the village of Sary-Tag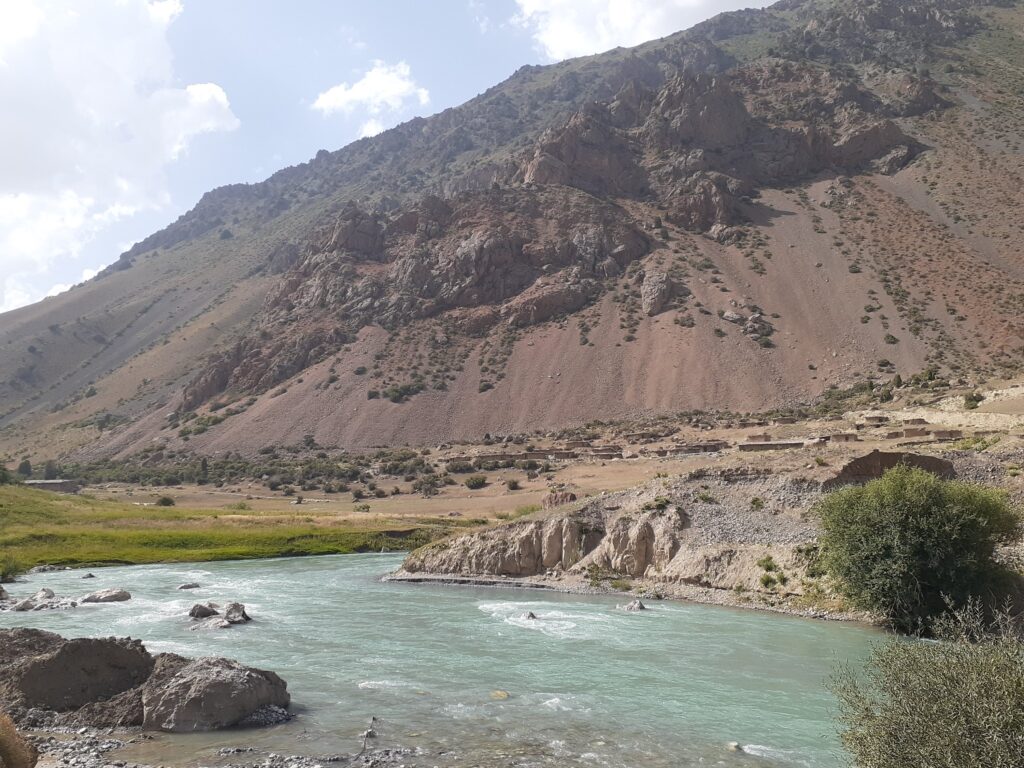 About 8 km from Lake Iskanderkul, there is the small village of Sary-Tag. There are several homestay accommodation options here and we decided to go to this village.
We walked a bit further along the banks of Lake Iskanderkul to a place where it was easier to hitchhike, but we were not sure if there would be a car to take us to the village this time of the day. We were prepared to walk 8 km in the worst case scenario, but as we approached the uphill, a BMW stopped for us.
A young Russian couple was in the car. They kindly offered us a lift to the village of Sary Tag. Lucky again!
They had been in Dushanbe for about six months and are digital nomads, offering their own app service. While we chatted, we arrived at our final destination, the village of Sary Tag, in 15 minutes.
Overnight in Sary-Tag village
Sary-Tag village is a small village in a valley surrounded by steep mountains. It is a quiet village, but is becoming increasingly popular with foreign tourists as a gateway to trekking routed, and several homestay accommodation facilities have already been established.
We chose to stay at Gostinitsa Shakhboz, the closest of the villages to Lake Iskanderkul. Unusually for a mountain village, it had an in-room bathroom. The price was 250 somni per person per night, including breakfast and dinner; we bargained for two nights and got 850 somni for two people for two nights. There is no air-conditioning in this highland village at an altitude of 2,300 metres. Also, forget about internet in this village.
The female owner, Sana, was very friendly and always smiling. She doesn't speak English, but we were able to communicate with her using Google Offline Translate. A more detailed review can be found on Google Maps.
Hiking from the village of Sarytag
The most popular activity from Sarytag village is hiking. There are several trails, but perhaps the most beautiful is the walk along the river from the village to the west.
We visited a village with traditional stone houses and walked along the jade-coloured river to watch the cows relaxing along the river. We took a video of this and it's on YouTube.