After four nights in Arslanbob and enjoying hiking, we headed to Toktogul. Going to Toktogul is only to break up the journey because I don't think there is much to see or do there.
We are slowly moving towards the border to Kazakhstan and decided to spend one night in Toktogul on the way through. In this post, we will share about the transfer from Arslanbob to Toktogul.
Getting from Arslanbob to Toktogul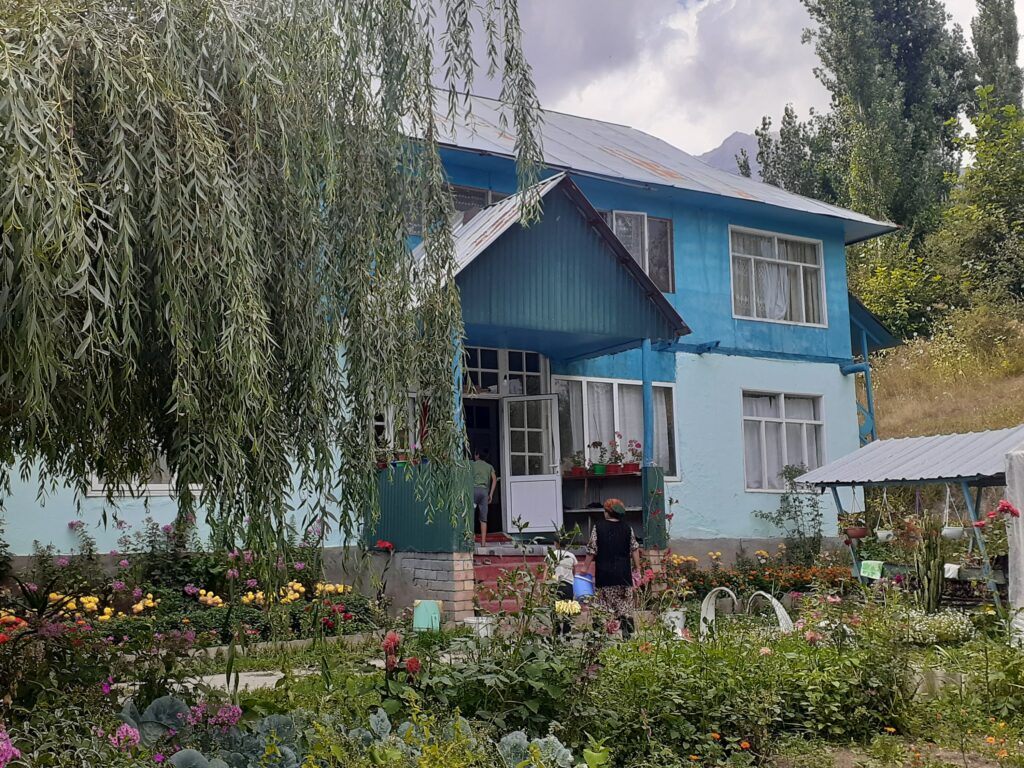 In Arslanbob, we stayed in a double room with bathroom ensuite at the Friendship Guesthouse. It was a very cosy place and we ended up staying there for four nights to enjoy the hiking in Arslanbob. In fact, we wanted to stay one more night, but unfortunately we couldn't extend our stay because the rooms were fully booked on that day.
The owner said, "I can recommend you another guesthouse in Arslanbob", but we liked the Friendship Guesthouse and its rooms so much that we kept staying. Now that we couldn't extend our stay, we decided to move on.
This was why we had a slow start in the morning, but as a result we were able to make it to Toktogul that day although it was a long journey.
There is no direct transport from Arslanbob to Toktogul and we had to take multiple transport connections.
Arslanbob → Bazar Korgon
Bazar Korgon → Kochkor-Ata
Kochkor-Ata → Karakol
Karakol → Toktogul
This is the route which we took to Toktogul. As described below, there is also a mashrutka that goes directly from Kochkor-Ata to Toktogul if you start travelling early in the morning.
Arslanbob to Bazar Korgon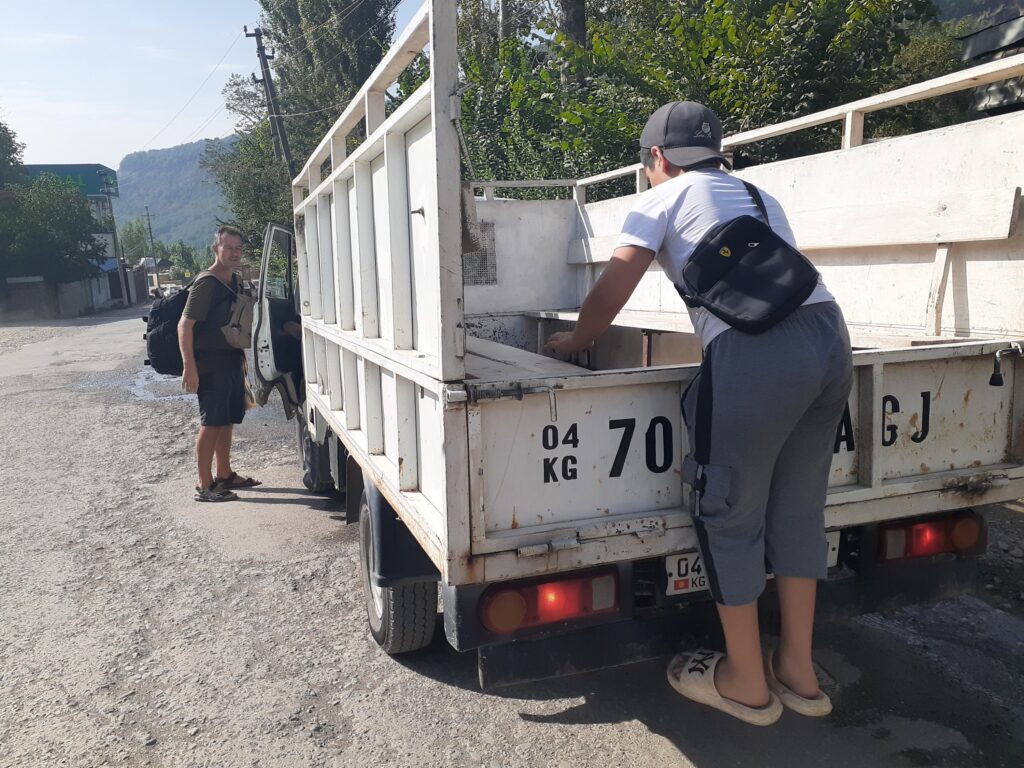 First, you need to go to Bazar Korgon to get the transport to the next place. The distance from Arslanbob to Bazar Korgon is 52 km, and there is a mashrutka from Arslanbob town centre, but the mashrutka was still almost empty when we went to the boarding station and we didn't know when it would leave. So we decided to try hitchhiking.
We were picked up by the truck in the image above a little way down the hill from the Mashrutka stop in Arslanbob. But they would turn right in front of the mosque a few kilometres down the road, so we asked them to drop us there.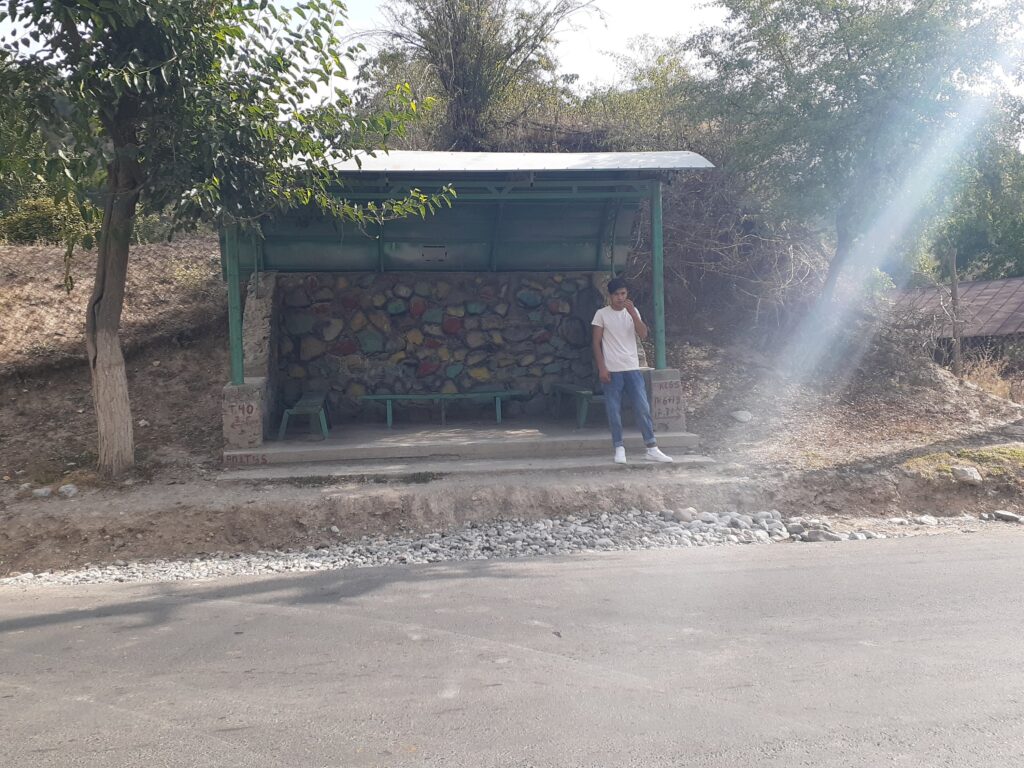 There was a waiting area like this, where one local man was waiting for a transport too. He was also going to Bazar Korgon.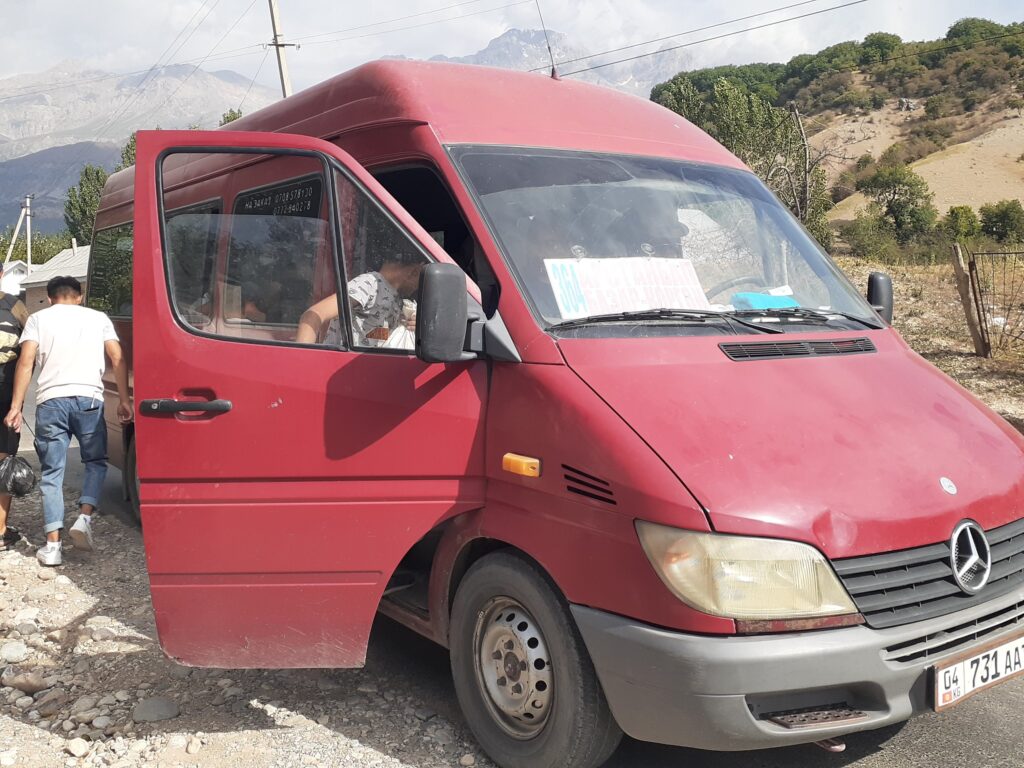 After a short wait, the mashrka arrived. It was already full and there were several people standing. We should have taken it from the first Arslanbob mashrutka stand… With a little regret, we got on it.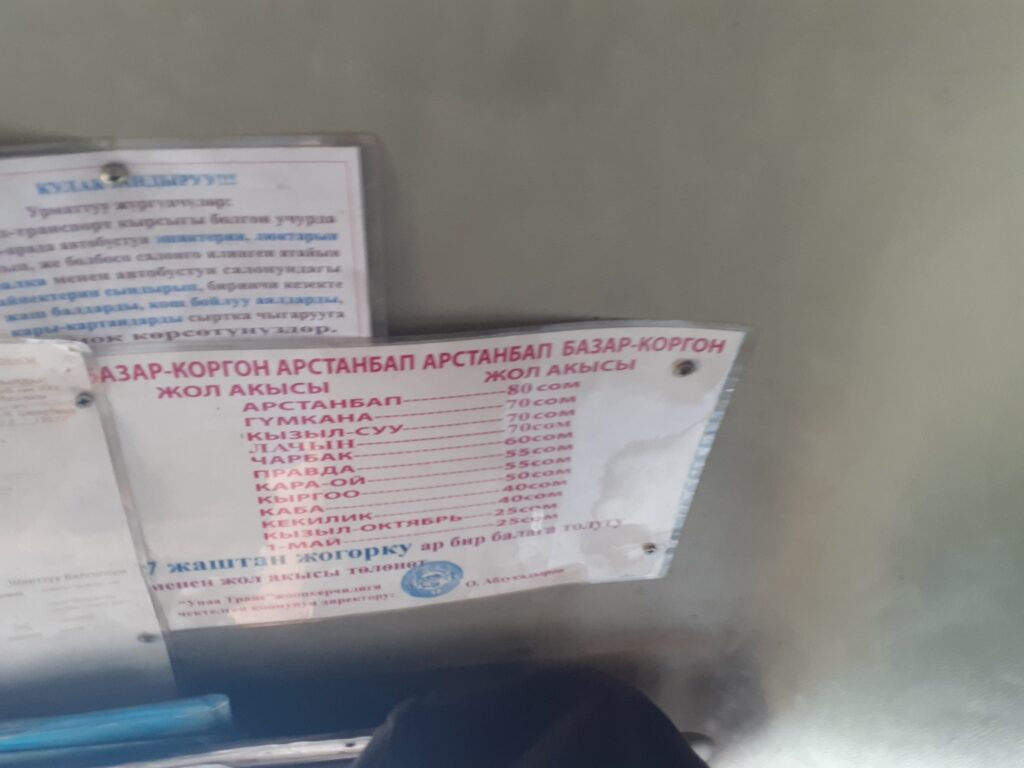 Inside the mashrutka, there was a price list posted, and it seemed that if you ride from Arslanbob, you would pay 80 som per person to Bazar Korgon, the last stop. We boarded from the middle of the journey, so it was 60 som per person. We boarded the Mashrutka at 9:50 am and arrived at Bazar Korgon at 11:00 am.
Shared taxi from Bazar Korgon to Kochkor-Ata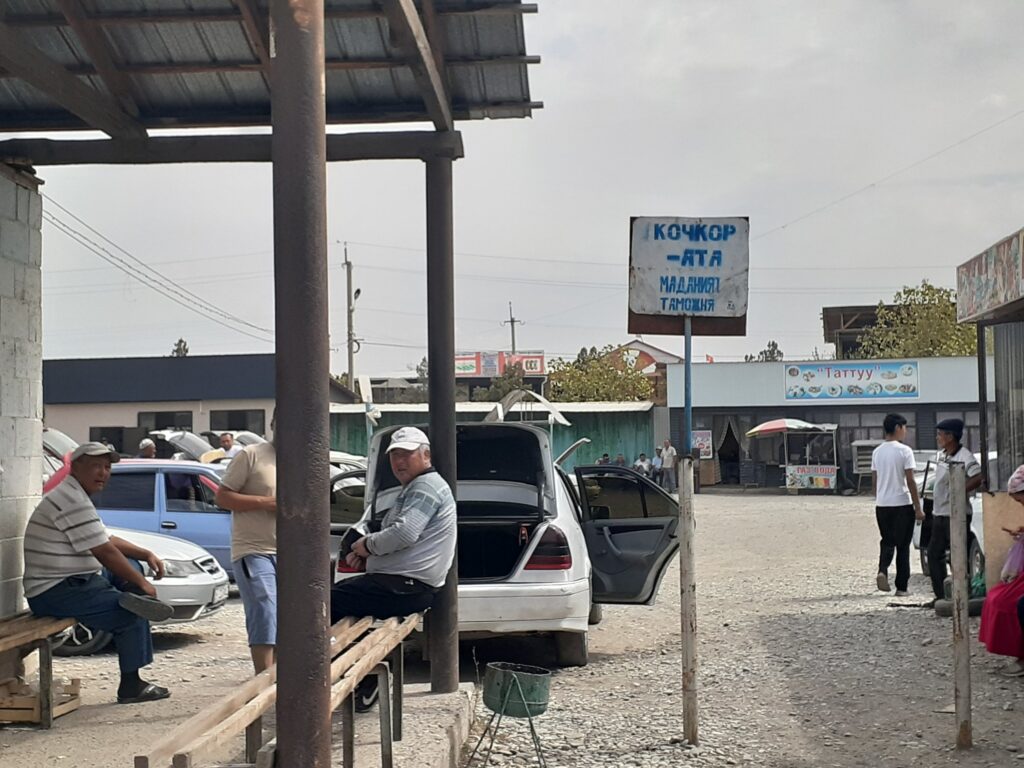 When we arrived at Bazar Korgon, we were told to go to Kochkor-Ata and change the vehicle. There is a mashrutka to Kochkor-Ata, but when we arrived, the mashrutka to Kochkor-Ata was not yet in.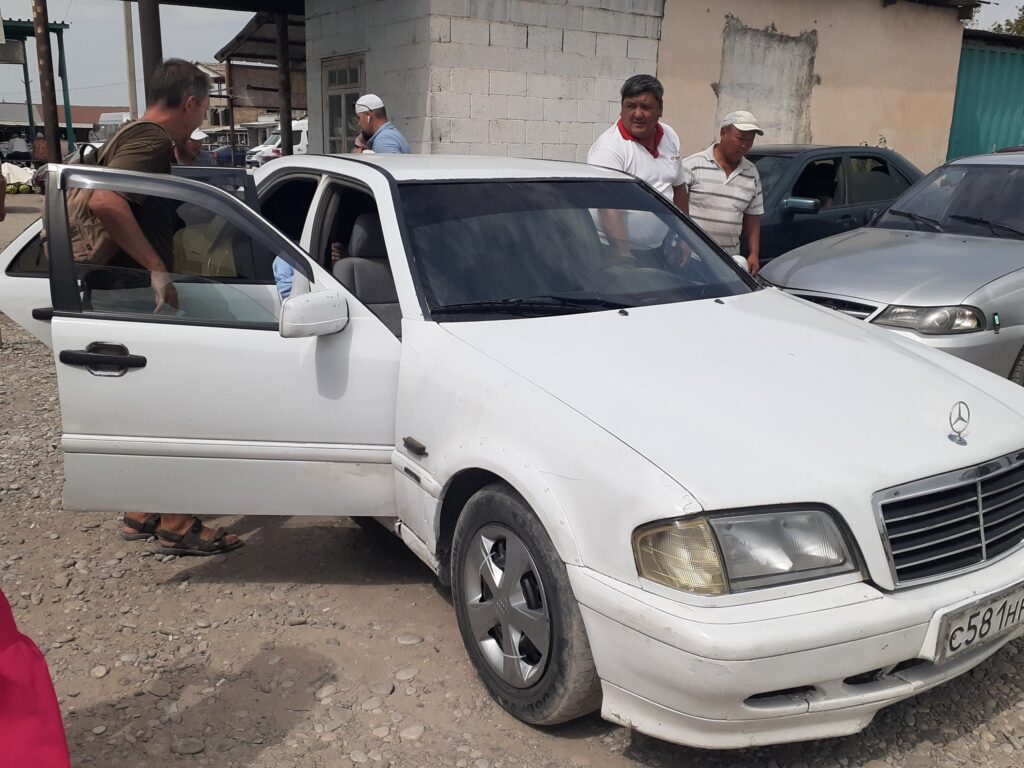 There was a shared taxi stand nearby, so we asked there and were told that there was a car that would leave soon. So we took a shared taxi to Kochkor-Ata.
We got in the taxi at 11:15 am and arrived in Kochkor-Ata at 11:50 am. The distance from Bazar Korgon to Kochkor-Ata was 28 km and the fare for the shared taxi was 100 som per person.
From Kochkor-Ata to Karakol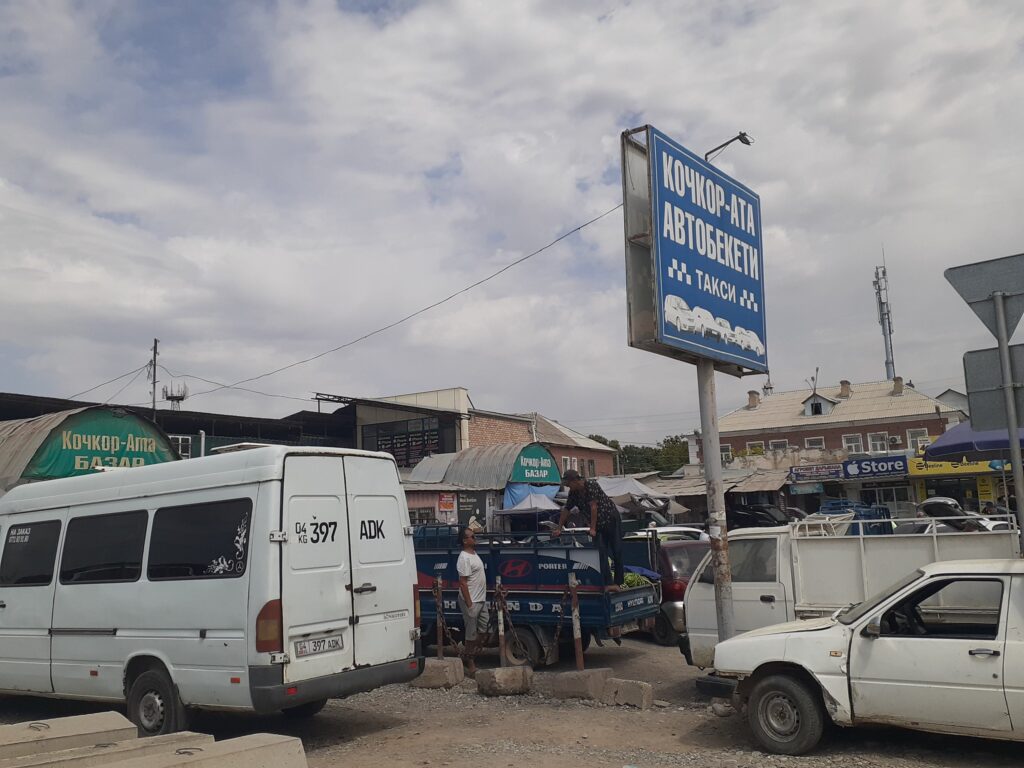 From Kochkor-Ata, there are three mashrutkas running in the morning directly to Toktogul. But we arrived in Kochkor-Ata at almost midday, so we couldn't catch the morning mashrutka to Toktogul.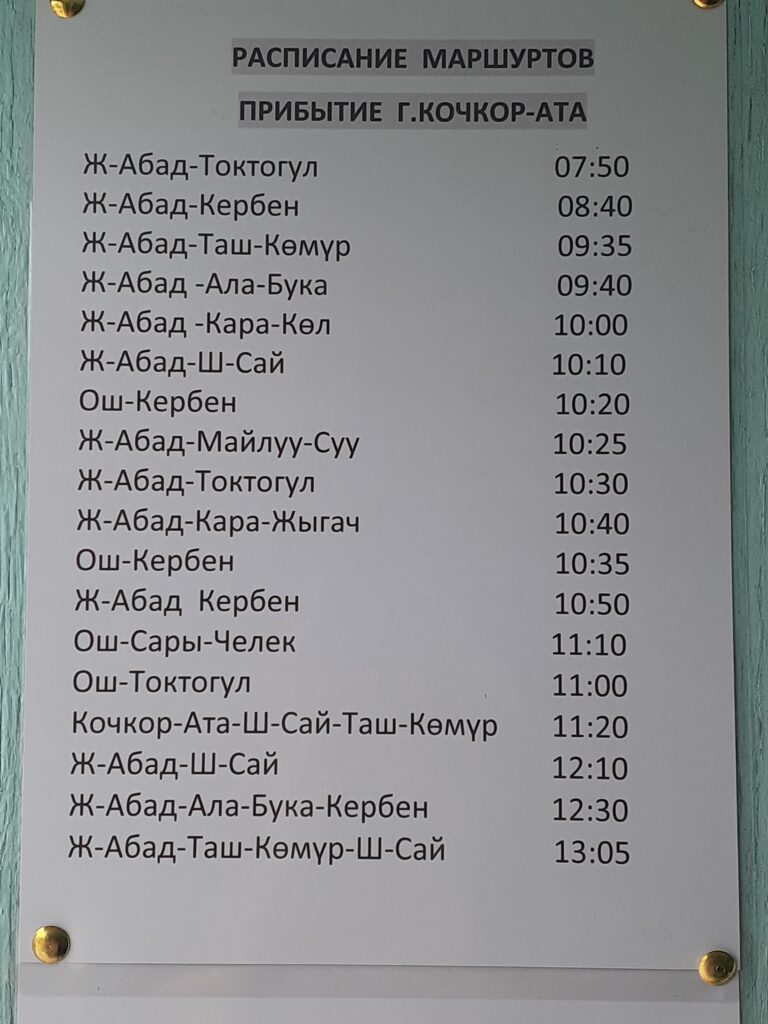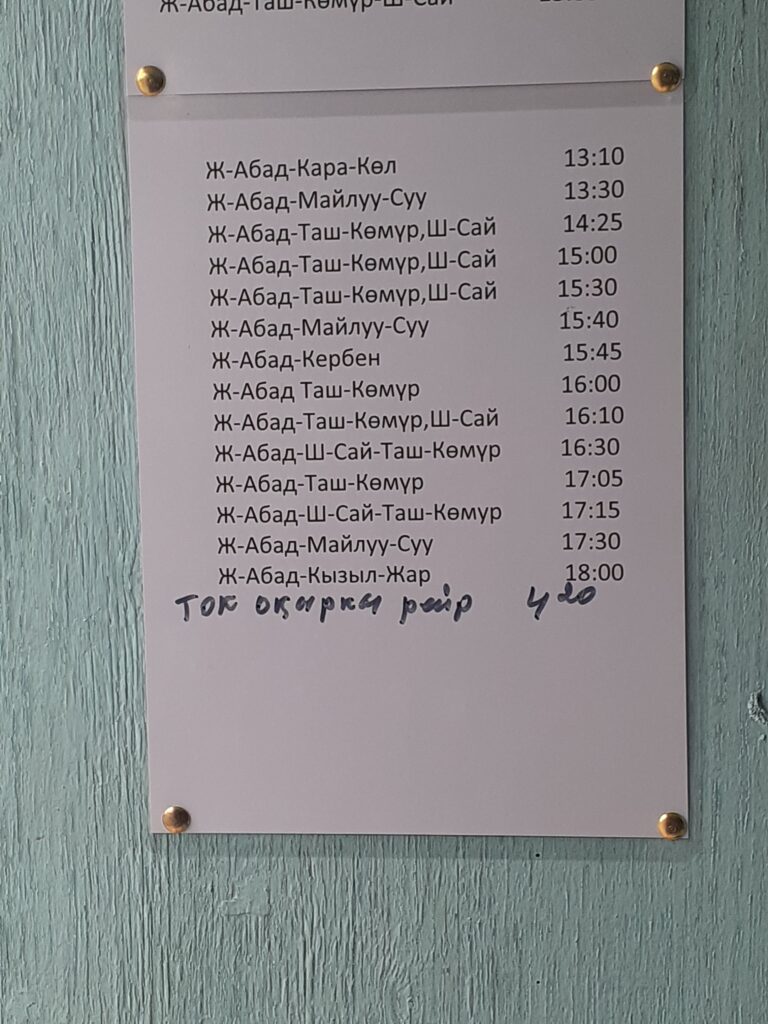 There was a small ticket office with blue walls and the lady inside told us to take the 13:10 mashrutka to Karakol and then change cars to Toktogul. The distance from Kochkor-Ata to Karakol is 134 km and the mashrutka fare was 220 som per person.
The mashrutka to Karakol comes from Jalalabad. So we were prepared for a slight delay, but surprisingly we were able to leave Kochkor-Ata almost on time, at 1:13pm.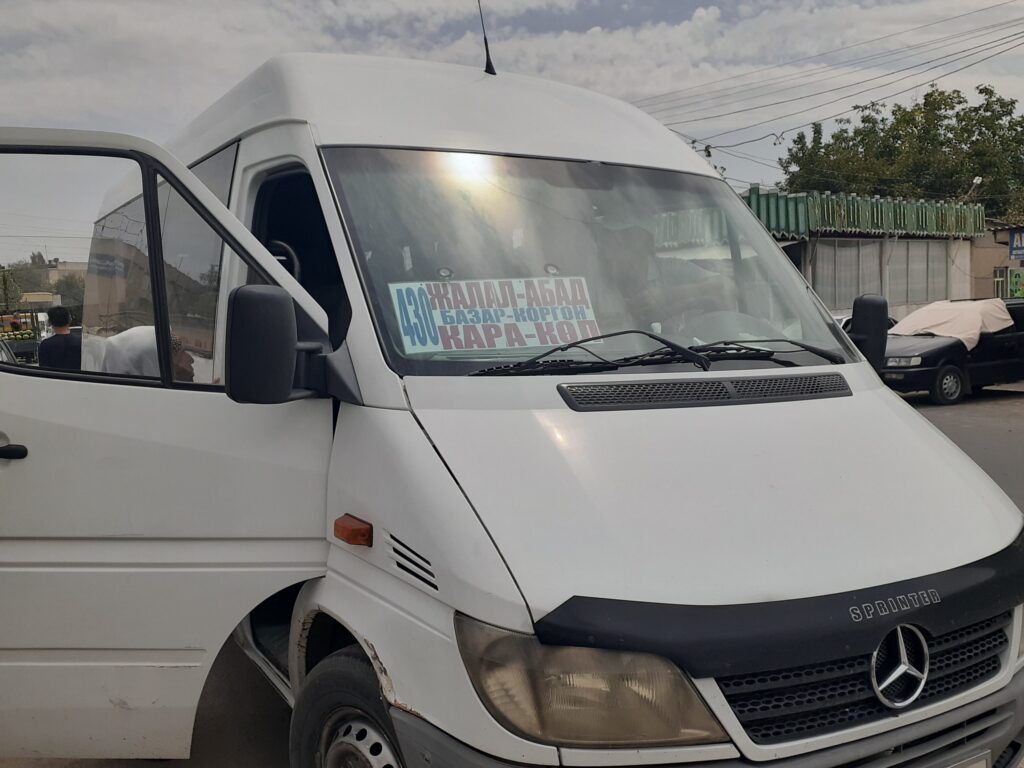 Unlike the mashrutka which we took in the morning, the mashrutka from Kochkor-Ata to Karakol was not full and we were able to sit comfortably for the journey. There were passengers from Uzbekistan (the mashrutka passes along the border with Uzbekistan on the way) and an English teacher from Kyrgyzstan on board, and we had a good conversation in English.
When they got off, they all said to the mashrutka driver something like "those foreigners are going to Toktogul, so take care of them" and got off. People here are all very kind.
From Karakol to Toktogul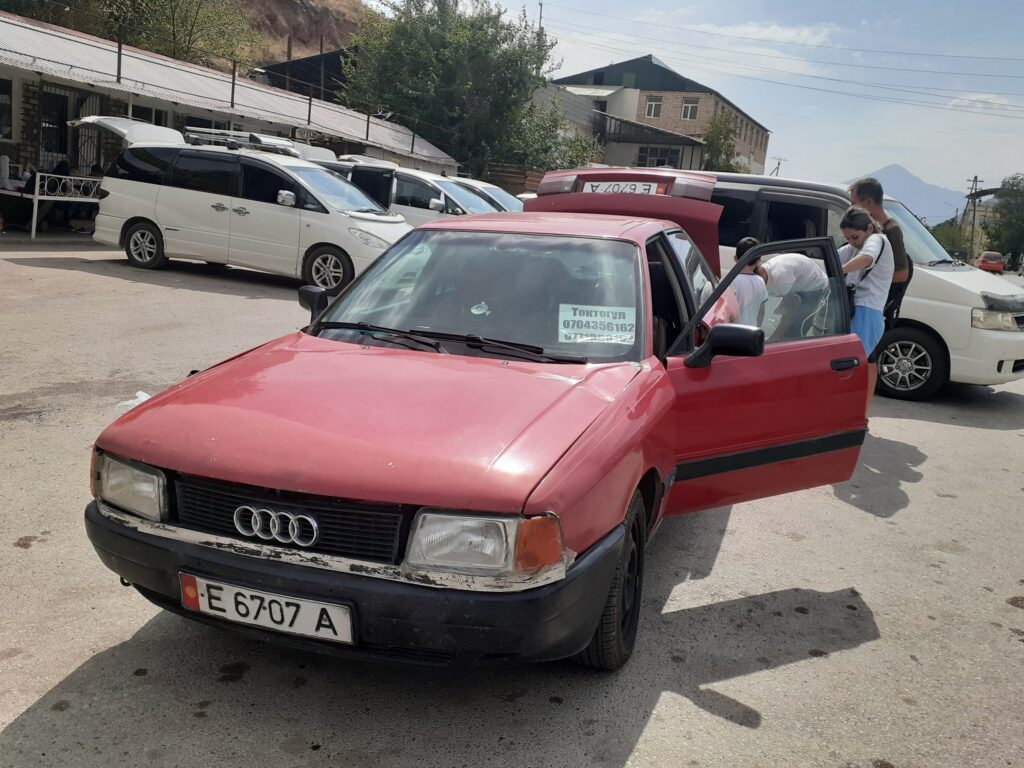 After passing the rocky mountains and a valley with large dams, we arrived at Karakol at 3.30pm. The journey from Kochkor-Ata took just over two hours.
When we arrived, a shared taxi to Toktogul was parked on the spot. Luckily, a Kyrgyzstan mother and her two boys who were in the same mashrutka from Kochkor-Ata were also going to Toktogul, and we took the shared taxi together. Thanks to this, we were able to leave immediately and the price to Toktogul was smoothly negotiated at 250 som per person.
The distance from Karakol to Toktogul is 110 km. It was 4:50pm when we entered the town of Toktogul after going around the lake and were dropped off in front of the guesthouse where we would be staying. We will stay overnight in Toktogul and head for Bishkek on the next day.